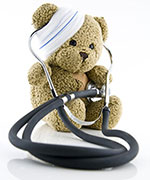 Dr. Amy Stenback was thrilled to be able to return to our practice in 2014 (Some of you may recall her from 2009 when she spent 6 months with us while covering for Dr. Meier's maternity leave). Dr. Stenback grew up in Minnesota and has practiced Pediatrics in California since 1990. She moved to Marin with her family in 2008 and enjoys spending time outdoors while raising her 3 children.
Dr. Stenback attended medical school at the University of Minnesota and did her Pediatric residency at UCSD. After years of private practice in Southern California, she is happy to call Marin her home. Helping families to raise healthy and happy children is what she loves about practicing Pediatrics. Working with families to help their children remain healthy with evidence based and preventative medicine is her goal. She also is on the staff of the Pediatric After Hours Clinic.
Dr. Stenback lives in San Anselmo with her husband, also a physician, and 3 children. She enjoys hiking with her family and their dog, is active in her children's schools and extracurricular activities and enjoys being a part of the community she practices in.